Tips & Tools
Life Hacks for a Clean and Organized Home
Whether it's on Facebook, Pinterest or 9gag, you've got to admit: we all enjoy seeing new and creative techniques in making life easier. Be it a recycled tissue roll or an odd way of using a small dustpan, there is a sense of excitement in trying and using these items as something else.
To feed this fascination further, we have personally hand-picked these five life hacks to help you keep a clean and organized home. Enjoy.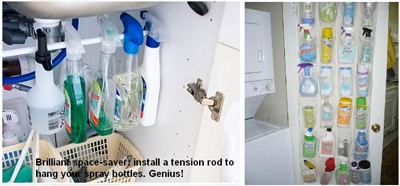 Hack#1: Keep cleaning products clean. Keep your cleaning products organized and spill-free by hanging them under your sink using an old curtain rod. By keeping these items at a higher level, you're also freeing some storage space for other items. If your store these products in a closet or in the laundry room instead of under the sink, use a shoe storage rack to arrange them and keep them away from children's reach. (Sources: http://bit.ly/1k9lo3d and http://bzfd.it/1eyJiND)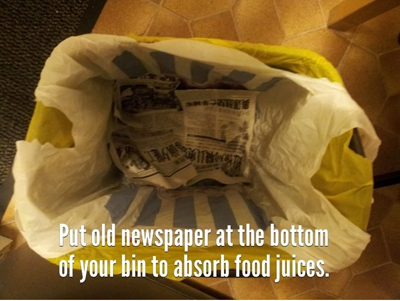 Hack #2: No spill trash bags. While it's logical to pour liquid content in the sink before throwing the container in the trash can, many of us skip the first step and assumes the plastic bag would save us the trouble. Unfortunately for mom, or whoever is taking out the trash, most of the time, these disposed liquid find their way out of the bag onto the trash bin or the floor. Keep your bins liquid free by putting old newspaper at the bottom of the bin to absorb liquid wastes. (Source: http://bit.ly/IWjfG7)
Hack #3: Pen Organizer. Whether it's for your home office or your children's workstation, here are more than one way to keep your pens and coloring materials organized. (Sources: http://bit.ly/ and http://bzfd.it/1eyJiND)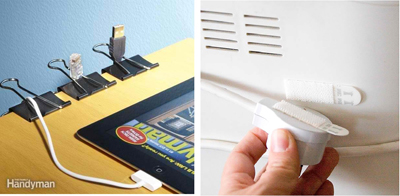 Hack #4: Wire-free. Apart from using an old tissue roll, keep your homes wire-free using paperclips and Velcro. (Sources: http://bzfd.it/1eyJiND and http://bit.ly/1aLbCdx)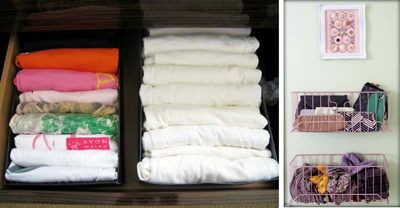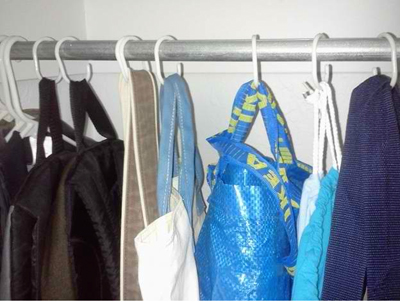 Hack #5: Keeping "out of sight" organized. Just because you can't see it doesn't mean that it should be a mess. Break the habit of stuffing everything in your closet or drawers by creating your own recycled organizers using shoeboxes or baskets. Not only will this free space but also make it easier for you to see and find things!
For those who have a collection of eco-friendly bags, while you're not using them, give them a good use by turning them into organizers as well. (Source: http://bzfd.it/1a4dLWJ)